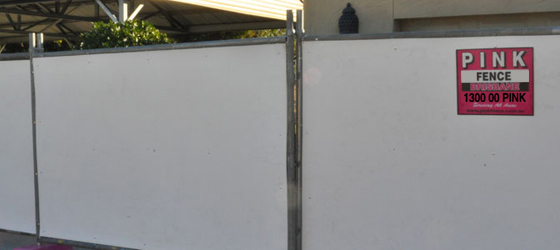 Hoarding
Pink Fence temporary hoarding fence is perfect for a variety of different uses. Temporary Fence Hoarding offers the added luxury of privacy and also ensures that maximum safety is achieved. Our Temporary Fence Hoarding is aesthetically pleasing and affordable expert installation is also provided as a standard part of our temporary fence hire services.

Certified to Australian Standards
Our hoarding fence fully complies to Australian AS 4687-2007 for temporary fencing and hoarding.
Temporary Fencing Accessories
We also provide for hire the following accessories that can be used in conjunction with the temporary fence.

Barbed Wire

Handrails

Dog Proofing

Bracing

We also specialise in: Mesh Fencing, Temporary Pool Fencing, Prestige Fencing, Water Barriers, Crowd Control Barriers, Portable Toilets and much more…
This product is suitable for: Residential Fence Hire, Commercial Fence Hire & Civil Fence Hire
Branches in: Sydney, Brisbane, Gold Coast, Redlands, Logan City, Ipswich, Melbourne, Adelaide, Murrylands and Mildura.
Don't see your current location? Give us a call on 1300 00 74 65 and let one of product specialists assist you! Or simply contact us via our online contact form.
Want to learn more about Temporary Hoarding Fence? CLICK HERE