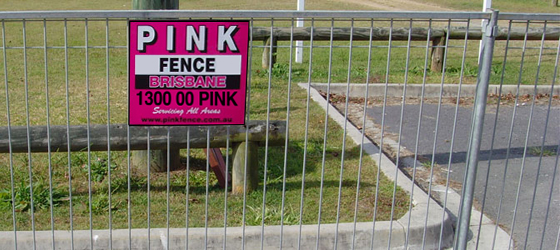 What is a temporary pool fence?
Call Pink Fence to set up a safety perimeter around your swimming pool with our high quality temporary pool fencing, and keep your kids safe!
Pink Fence offers a wide range of temporary pool Fence & rental solutions. A temporary pool fence is required during the construction of your swimming pool or spa, or until you have a permanent pool fence erected.
Our temporary pool fence is specifically designed to prevent children from accessing a pool or spa when filled with water. Customers and pool installers prefer Pink Fence temporary fences, as they are easy to install and dismantle, whilst being very strong and secure.
Pink Fence supply temporary pool fence systems to many leading pool companies. Customers rely on Pink Fence to secure swimming pools and spas on time to ensure safety and avoid compliance issues.
We also have Self Closing Pool Gates which provide a convenient & safe entry point to your pool area while you are using temporary pool fencing.

Certified to Australian Standards
Our temporary pool fencing fully complies to Australian Standard AS 1926. 1-2007 Swimming Pool Safety. Part 1:Safety barriers fro swimming pools.